A little bit of history
Vanuatu maybe a far away destination but you could take the opportunity to visit it at the end of an Australian visa. It will be our first visit in the Pacific, located in the Coral Sea, north of New Caledonia. Made of a string of islands, 81 in total, Vanuatu with 3 official languages due to its history as well as 108 distinct languages scattered across the islands. The Bichelamar is the main language that everyone speaks in the country. English and French are very popular too because of its past of colonized country. It has been for a long time a colony managed in joint administration between two great powers, France and England and used to be named New Hebrides. At independence, the country changed its name to Vanuatu which means "standing country".
The ni-Vanuatu or ni-Va are Melanesians for the vast majority, like almost all Pacific island populations.
What can you do in 2 days?
I have to confess when I arrived in Port Vila I didn't know what to expect from the country. I tried to find some information on the Internet but except Trip Advisor and some blogs, it seemed pretty hard to make plans. So after a week on Efate island, my first stop alone (I mean not really as I met Florine on the way and we spend 5 days together exploring the island) I would say that you can only stay in Port Vila during 2 days and 2 nights to enjoy it and therefore save money and time.
The day of your arrival drop your bag at your hotel and go to visit Port Vila. My favorite place, the market, with all these colors, the veggies presentation and the nice smell of local products, here everything is good, fresh and surprisingly varied. We did our shopping there every night because we had a kitchen to our hotel. Don't forget to go to the food court in the market. I will tell you later.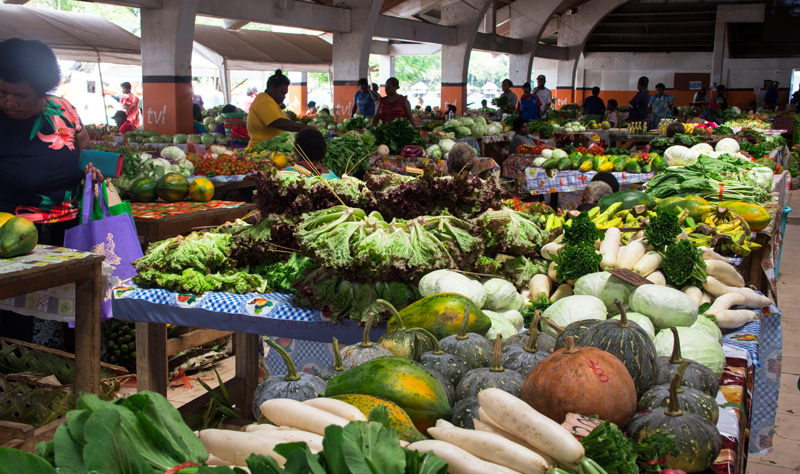 From the market take a minivan to Pango village (200 VT) and enjoy the free beach with white sand and its lagoon. I advise you to go for a walk in the village, follow the main road and discover the little street. We really enjoyed the contrast with Port Vila. Here everything is green, relaxed, houses and gardens are colorful, a taste of the tropical spirit, a real pleasure.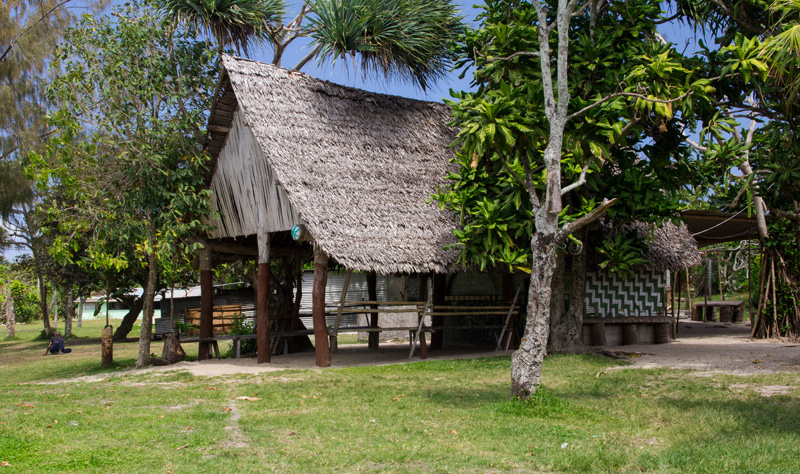 Subsequently, head to the waterfalls of Mele to spend a few hours, the entrance fee is 2000 VT per person. At first we thought the price a bit expensive. Down the line, it depends how long you stay and the price also includes the management of the facilities there. Accessing the last pool at the top is farily easy, 20 min max is you are fast. The water is really clear, sometimes turquoise and even if it's a bit cold, it's always a great place to swim and have a natural massage.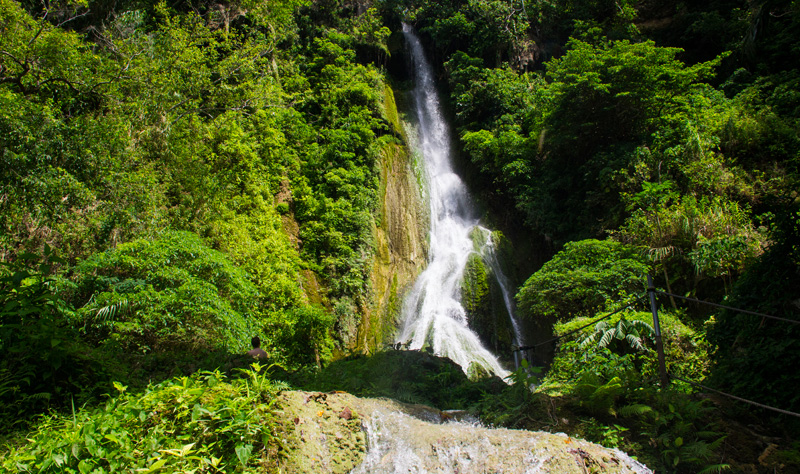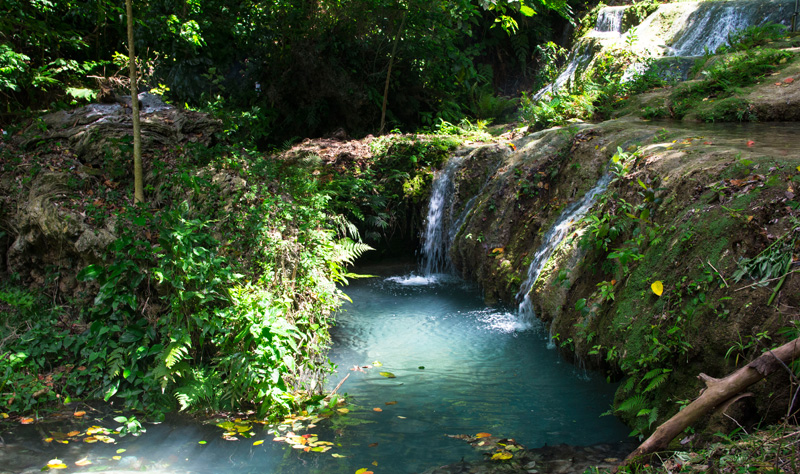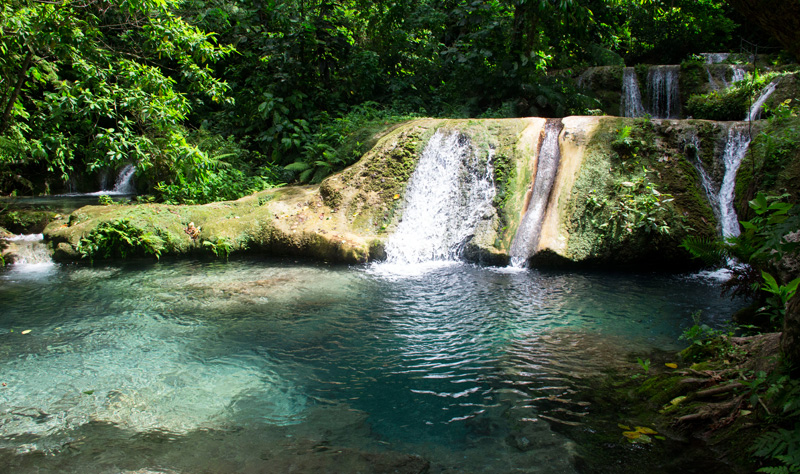 On our way back, still with a mini van and for 50 VTU, we stopped on the beach in front of Hideaway island. A second free nice beach close to Port Vila. When I arrived there, I don't know why but I expected something more wild and the island far enough to not be accessible from the beach, but actually you can walk to the island when it's low tide. The beach in front the island is a good spot for kite surf.
For the story, the island has the name of the resort who owns it. If you want to do some snorkeling you will have to cross with a boat and pay 1250 VTU per person.
A school is overlooking the beach, so for a really nice moment, get there during the kids break as it makes the place very full of life.
To come back to town, don't take the minivan just in front of the beach but go back to the road, just 3-minute walk, we paid 150 instead of 300 per person.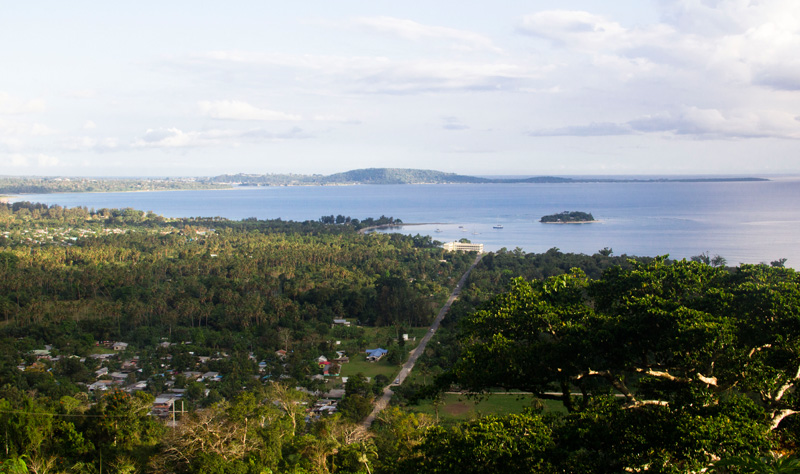 The second day I would advise you to take a tour, which you can book in advance. I am generally not to keen on taking tours, but in Vanuatu, this is almost the only way you have to go around the island and escape from town. Talking about a tour is not exactly right, as we were only 5 people and our guide for our Native Round Island Tour which turned to be really good and costed us 7 500 VTU per person (all fees included).
Our guide Tom shared the stories of his island with a lot of humor which made our experience more lively and Noa our driver had also some good jokes to share. Considering the numerous stops planed, we were worried about the timing and to rush all along, but it's not the spirit of the Ni-Va, really peaceful people.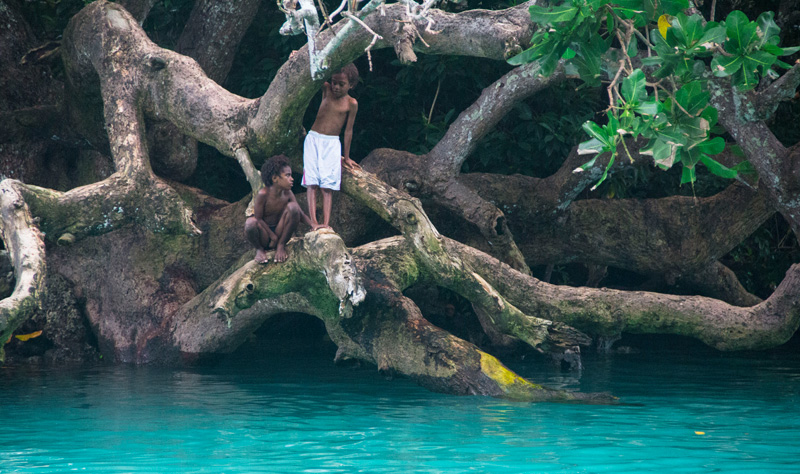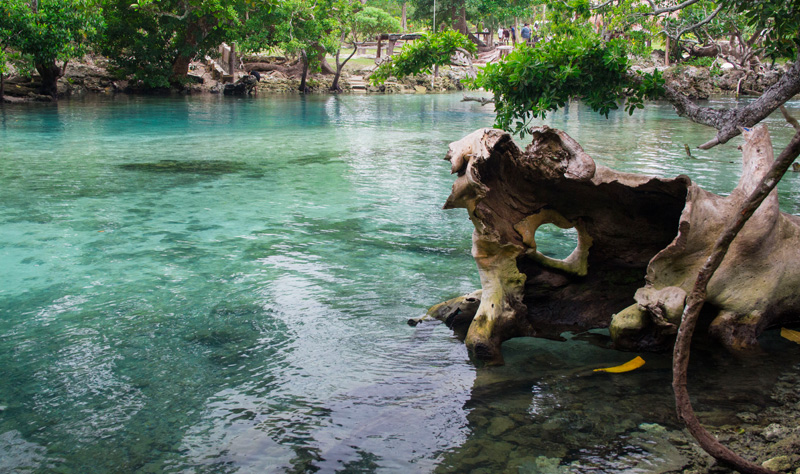 We had few disappointment on the tour. The hot springs stop was canceled because of a disagreement between two owners sharing the land. I wasn't too keen either on the traditional dance during lunch in the restaurant as it reminded me of some bad experiences we had in Thailand, these are definitely not for me. Overall, we had a good day, with a good break overtime to swim and snorkel, some time to relax, to assimilate what we learn and could ask a lot of questions.
A good day to discover the landscape of Efate, the stories of the island and its people.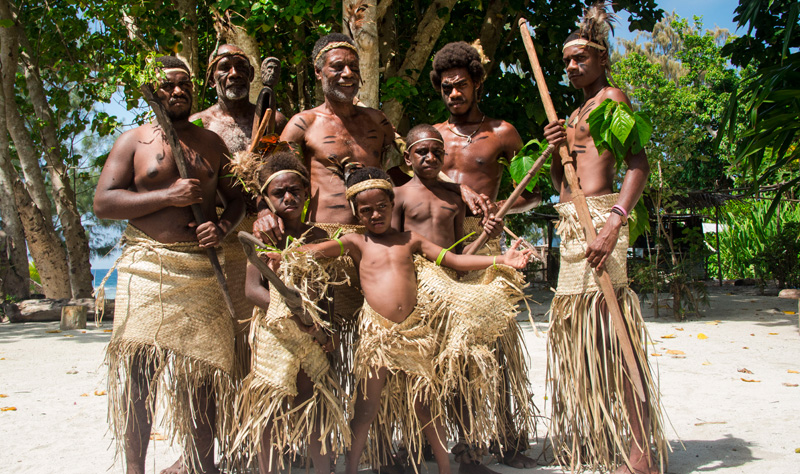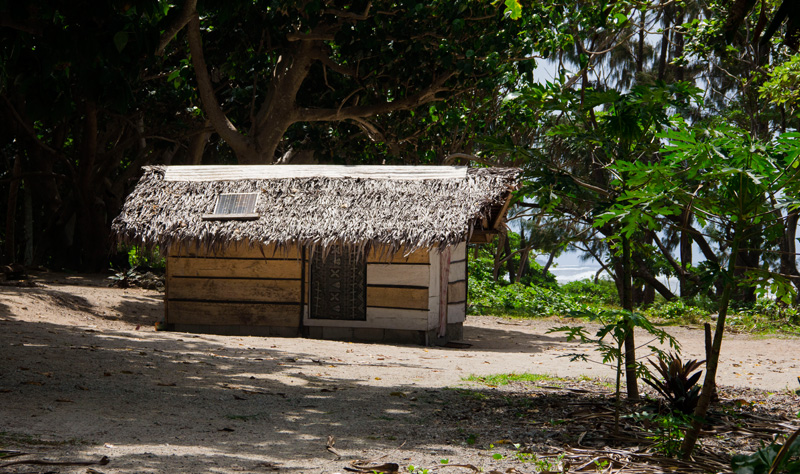 Tips and adresses
Airport: the first mistake would be to pay for a taxi instead of a minivans who will drive you anywhere in town. Approximately 9€ for the taxi and 1,50€ for the minivan. You can't say now that you didn't know 😉
If you can't find a minivan in front of the international terminal just walk 2 minutes to go to the domestic one.
Traveler's motel: the place is really nice with the swimming pool and kitchen, really practical to go to the market. Not too many bedrooms but overall simple, comfy, and much cheaper than most resorts. I had the chance to be alone in my dormitory during the week. And it's only 10 min walk from town. Price for the night for a bed: 3000 VTU.
Market food court : my cantine, almost everytime I was in town. It's good and cheap and plates are huge, so you can share the plate with someone if you want to or take part of it away.
Go to Sheila's restaurant, she is adorable with a sweet voice, she will take good care of you, or just opposite, Myriam with a delicious marinated fish.